What if you celebrated every single alumni job change?
by Lillian Bicchieri
on Apr 18, 2022 11:23:41 AM
A job change is a life pivot point that can be stressful, happy, sad, scary, or a mix of all these things (source: Forbes). If you've ever lived through a job change before, you know that it's an emotional process. Promotions, layoffs, resignations, new jobs, retirements - they're all a big deal.
Job changes matter.
Here's a truth: Most college mission statements claim that a main goal is "to prepare students for a successful future career." Along these lines, it's very likely that the reason you chose to go to college way back when was so that you could eventually find a meaningful job that pays you well. And, after graduating, the degree you earned is always prominently displayed on your resume and LinkedIn. Right?
Your career and your alma mater: these two things are inextricably linked.
But. When you've had a job shakeup (positive or not) in the past, did you receive a message from the college that "prepared you" for said career change? Did you hear anything from the place where you spent years of your life (and a substantial sum of money) intentionally trying to mold a meaningful career path?
Where was your alma mater at these big-deal-job-change moments?
OR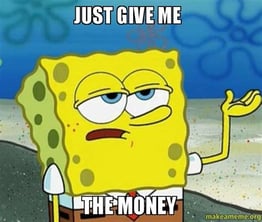 Across the board, colleges face declining alumni engagement and donor participation (CASE VSE). Advancement teams everywhere are seeking meaningful, personal ways to show their alums that they are still a valued member of the campus community.
Colleges and Universities pride themselves on providing the degree that shapes the career arcs of their graduates. And yet, more than 95% of career updates from recent job-changers are not in a typical college's database (EverTrue).
Does anyone see the missed opportunity here?!
Louisiana Tech University did.
With a lean team and a limited budget, the LA Tech team decided (correctly) that it was unacceptable to claim they wanted to meaningfully engage thousands more alumni, and yet to let their alumni job changes go unacknowledged.
So, they dug in and here's what they saw: 3% of their alumni change jobs every year (700 - 800, quarterly). Of these job-changers, about 15% showed additional wealth indicators. 40% were young alums. 1% were retiring. 8% had just been promoted to a C-suite position.
Big untapped potential.
The team needed a simple, scalable process that fit within their existing staffing structure and allowed them to congratulate every single alumni job changer on a quarterly basis.
So, they opted to receive automatic, human-verified alumni job change notifications every 90 days through EverTrue. And now, their Director of Alumni Engagement acknowledges these important Career Moves milestones by sending personalized, congratulatory ThankView videos to every single job-changing alum.
Here's what the videos look like. (Click on these to see the full ThankView video.)
Imagine receiving one of these videos? How would you feel?
From January to December 2021, the Louisiana Tech team personally congratulated over 2,500 job changers via ThankView.
These ThankView "congrats!" videos got a 60% average open rate and 37% click-through rate.
After receiving a ThankView "congrats!" video, 150 of these job changers made an annual gift.
24 of them made gifts for the first time ever.
400 job-changers engaged with Louisiana Tech's Facebook posts. 44 liked Louisiana Tech's Facebook posts over 25 times.
These are actual responses from actual Louisiana Tech alums:
"This message made my day."
"Thank you for the congrats! Great to still feel connected to the school."
"Thank you guys!!! You are the best!!!! #foreverloyal"
"Thank you so much for this message and recognition. My days at Louisiana Tech were the best. I played on the tennis team and had the greatest time ever. I sure do miss it.Thank you again!"

The takeaway: build relationships by following the Golden Rule.
Many times, the first message we get from our alma maters after graduating is, "Hey, you graduated, you got a great job, now give us some money." When Louisiana Tech alums land their first post-grad gig, they get a warm, heartfelt "congrats!"
It's a game-changer. It's the right thing to do. And this approach is totally replicable at every college and university.
NB: For your alums who have recently lost their jobs, it's obviously a less-celebratory moment. This is your chance to step in, remind them that you care, and connect them to the deep resources and support of your Career Center.
For all advancement shops, monitoring alumni job changers is now super easy, thanks to Career Moves by EverTrue (automatic, human-verified job changes delivered to your alumni database every 90 days). And the process of turning job changes into "congrats!" videos is pretty much as simple as choosing a good Zoom background and channeling authentic pride for the accomplishments of your alumni.
In the words of Vice President Brooks Hull, "This is the best way we know right now to start to build a relationship that's actually based in us valuing our alumni first. Before we ever value them as a donor, we value them because of their success - because we know that the success that they have adds value to the degree that we offer." (Hear more about Career Moves from Brooks Hull here.)
The Louisiana Tech team #getsit. Brooks #getsit. We hope you do, too.