Stand Out and Make an Impact With These Giving Tuesday Ideas
by Nicola Scoon
on Oct 5, 2020 1:56:23 AM
With so many people excited about Giving Tuesday, a global day of charitable giving, it's the perfect time to launch a new campaign and get people interested. It's also a great time of year to re-engage your loyal donors and ask for their support once more.
Let's take a look at how to plan for a successful Giving Tuesday. Plus, we'll share our best Giving Tuesday ideas to help you make an even bigger impact on November 30th.
How To Make the Most of Giving Tuesday
Giving Tuesday is a major moment in the international charity space. This means to stand out, you need to plan ahead and know what your focus will be. Here's how to get organized and make this Giving Tuesday your best yet.
Get a Team in Place
Every amazing project has a brilliant team behind it. Start now to assemble your team for Giving Tuesday.
Think about the kind of experts you'll need on your team given your audience and goals. Maybe you're planning a showstopping online event or you want to create a peer-to-peer fundraising campaign to help you reach a new goal. Whatever your fundraiser, look for someone with relevant know-how.
Whether you're launching a campaign or promoting an existing one, here are some of the skills that'll prove useful on your team:
Finance and resource management
Project and campaign management
Event planning
Marketing and social media expertise
Volunteer management
Customer support
Look at your nonprofit organization's team, and see who'd be a great fit for your project team given the above skills. Don't forget to ask around the office — so many of us have hidden talents or passions that could be just what you need.
Alongside your in-house team, you might need to bring in a few specialists. Maybe now's the perfect time for you to refine your email marketing strategy, or perhaps you need help setting up an impressive online donation platform. Get everyone on board with your ideas nice and early so you can start planning.
Plan Ahead
Giving Tuesday is pretty well known now, so it's one of those fundraising moments you really want to get right. Give your campaign the best chance by planning ahead.
With Giving Tuesday kicking off the busy holiday season after Black Friday and Cyber Monday, it always helps to start planning early. Start thinking about the event in late summer, so you're ready to jump into action by September.
Get your team together and go through your ideas, goals, and challenges.
Not sure what you need to cover? Here are some areas that you can think about and plan for ahead of the big day:
Your campaign goals and connect them with your bigger, organization-wide goals
Year-end fundraising goals
Budget, funding sources, and resources (including staff)
Fundraising ideas — ex., an event or crowdfunding campaign
Marketing and promotion
Online fundraising
Donation processing and thank you emails
Engagement ideas to help you reach new donors
Re-engagement strategies for existing or lapsed donors
Potential corporate sponsors
Other charities or nonprofits you could partner with to raise greater awareness
Now is also a great time to think about how previous fundraising events have gone. Look at your data and reflect on donor numbers, funds raised, and engagement. Was there something that worked really well last year? Great — try and make it even better this year. Realized that a viral campaign isn't your thing? That's okay — try something new this year instead.
Once you're clear on the details, create an action plan with dates, tasks, and responsibilities. You can then breeze through the rest of the pre-event process while knowing you've thought of (almost) everything.
Check-in About Team Progress
Making the plan is the easy part. From there, it's up to you and your team to execute it as you move closer and closer to the launch. Help your preparations go as smoothly as possible with assigned tasks and regular check-ins.
There's so much to do before Giving Tuesday arrives. Here are just a few of the items you might find on your action list ahead of this day of giving:
Update your website
Plan your marketing campaigns
Schedule social media posts
Create digital and physical assets
Check existing donation forms or create new donation methods (ex., online and SMS)
Book venues, speakers, video-call technicians, and other fundraiser event essentials
Prepare for any webinars or online events
Stay on top of task progress with regular check-ins. You don't want to go overboard with meetings, but do create opportunities for everyone to share progress updates. This might be a quick weekly meeting or a dedicated Slack channel for people to share a daily check-in.
The goal is to know how your project is progressing so you can deal with challenges swiftly. It also gives you the chance to go bigger and bolder with your giving campaign if everything's ahead of schedule.
Launch and Promote Your Campaign
When launch day arrives, it's time to rally together and send your carefully crafted campaign into the world.
On a day crowded with nonprofit calls for donations, you'll want to help your campaign stand out. Here are a few ways to spread the word about your Giving Tuesday campaign:
Send a targeted series of launch emails to existing donors.
Add a campaign message and donate button to your website and social media accounts.
Create an exciting, active social media campaign using the #GiveTuesday hashtag.
Write and send a press release to local, regional, and national press.
Host an exclusive, first-look launch event for your major donors and loyal supporters.
Look for opportunities to speak to press, radio, TV, and other outlets about Giving Tuesday.
Don't be afraid to look for fun, alternative ways to promote your fundraising efforts on this international giving day. Create a virtual treasure hunt on your website, or ask one of your high-profile ambassadors to do something hilarious in your aid — like kick off a viral karaoke contest. This can help you get extra attention and more supporters.
Fun Giving Tuesday Ideas To Help You Attract and Engage Donors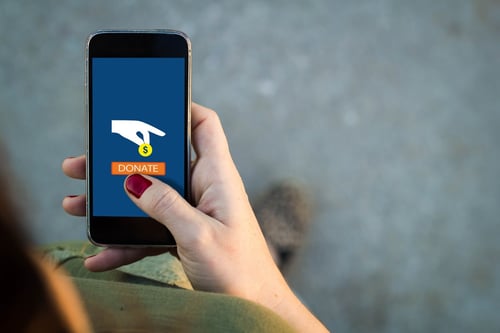 If you're looking for new ideas to help you refresh your Giving Tuesday approach, we have you covered. Here are some Giving Tuesday ideas to help you reach more people and engage your existing audience.
Set Up an Online Donation Page
If you don't have one already, it's time to set up an online donation page. This makes it so much easier for people who stumble across you to send some good vibes (and funds) your way.
You could create a general donation page or one that's specific to your Giving Tuesday campaign. Set up different options so people can choose their own donation amount, and think about offering the opportunity to become a monthly supporter.
Refresh Your Marketing
We love that so many nonprofits get involved with Giving Tuesday. Not only does this mean more funds for more great causes, but it's also the perfect opportunity to find inspiration for your own marketing.
Look at what others did the previous year and see how your marketing activity compares. You might feel inspired to revamp your email campaigns to be more engaging or to dip your toe into the world of video marketing for this year's event.
Use Videos To Gain Support
There's no escaping video content. It's everywhere, and almost everyone seems to use it. Make sure your content is original, impressive, and full of heart.
A great way to use video is to feature the people that make your organization what it is. Film your directors, team, volunteers, and service users to create content that rallies donor support. That's what Miami University did when they had to move their donor day online.
Video can seem daunting, but our automated personalized video platform helps make it simple. You can film and edit videos easily, then add in personalized sections — without filming hundreds of separate videos. This gives you more time to go out and lead your fundraising efforts.
For more advice from our experts, see our guide on how to lead with video for #GivingTuesday.
Create a Visual Progress Chart
Many of us are visual creatures, so a fundraising target chart can help your supporters see how far you've come and how close you are to hitting that target.
For bonus points, theme your progress chart around your campaign or cause. Fundraising for a children's charity? Swap the traditional meter for a teddy bear. Raising money for an animal shelter? There's nothing cuter than a dog (or a cat, if you're a cat person.)
Get on Board With Peer-to-Peer Fundraising
With peer-to-peer fundraising, your lovely supporters raise money for you. They can set up a custom fundraising page tied to your organization, then ask friends and family to donate.
This kind of fundraising is perfect for gamification. Create rewards based on how much money your supporters raise on your behalf or for passing certain targets like sharing with a number of friends. Maybe you can offer complimentary merch or a personalized video from your founder.
Create Matching Gifts
Many of us are thinking about how we can reach new private donors at this time of year. Don't forget that now's also a great time to strengthen relationships with corporate sponsors. Enter the gift matching program.
Use Giving Tuesday as the perfect opportunity to forge new partnerships with local and national corporates that are happy to match their employees' donations to your cause. Not only do you benefit from extra funds, but you can promote the partnership and your sponsors' involvement throughout Giving Tuesday.
Engage Your Existing Donors
Giving Tuesday isn't just about getting you in front of new supporters. It's the ideal time to focus on donor retention and show thanks to your loyal, existing donors.
Let your supporters know you're grateful for their support with a personalized thank-you video. Capture their attention with a standout subject line, then get into a heartfelt video that highlights their contributions from the year. Finish by asking them to consider supporting your Giving Tuesday campaign and reiterating how much you value all they've done for you so far.
Plan for Success With These Giving Tuesday Ideas
Giving Tuesday is one of the biggest yearly events in the nonprofit calendar. It helps start the festive season with the right message — to support others, share gratitude, and come together to make a difference.
Make the most of the season of giving by planning ahead, being creative, and staying connected to your loyal supporters. If you're ready to use video to prepare for this Giving Tuesday, book a demo with our team to find out more about our personalized video platform.