How To Use Facebook's Fundraiser Tools To Raise Money for Your Nonprofit
by Kristin Chute
on Feb 12, 2021 1:20:48 AM
Have you seen fundraisers on Facebook and wondered if your organization could do well with a social media campaign?
Worldwide, 18% of supporters have given through Facebook fundraising tools, and of those, 88% say they are likely to give through Facebook fundraising tools in the future.
Plus, the average adult in the United States spends 38 minutes a day on Facebook, so take advantage of being right where your warm audience is spending time. They are in the perfect position to quickly post, share, and donate to your cause.
With statistics like that, checking out the fundraising features available on Facebook is a smart choice!
Let's take a deep dive into the features, benefits, and steps your nonprofit can take to use Facebook for your fundraising efforts.
Get Acquainted With Facebook's Fundraising Tools
So you have your nonprofit organization's seasonal and annual appeals scheduled. With a lofty fundraising goal, you know you need to create fundraisers to supplement your efforts between asks. Perhaps you're looking to expand the methods your nonprofit has to collect donations or you're looking to try a new venue for your annual drive. No matter the reason your organization explores Facebook's fundraising capabilities, there are tools to help.
Once you've decided to use Facebook for your fundraising you'll first want to ensure your organization signs up to use Facebook's charitable giving tools. Facebook currently indicates it can take up to three weeks for applications to be processed, so start here!
This will allow your organization to utilize many features, which are all included in Facebook's fundraising tools available for qualified organizations.
To be considered a qualified organization, you need to:
Be a recognized 501(c)(3) organization
Have a valid tax ID number
Be registered with the IRS
Have a bank account registered with a licensed financial services institution
Here are the features you'll get to use:
Donate Button
No matter how much time you spend on Facebook, you've likely seen the donate button as you scroll through your newsfeed. You might see the button on posts from individuals, directly on the page of nonprofit organizations, or even on Facebook Live videos.
Nonprofits with Facebook pages have the option to add a donate button directly to their page, making it easy for a Facebook user to donate right then and there. If you're an admin to your organization's Facebook page, you can add the donate button right now.
Once your organization has enrolled in Facebook payments, you can add the donate button directly to posts you create and share. Once you've composed your post all you have to do is select the option to "Raise Money:"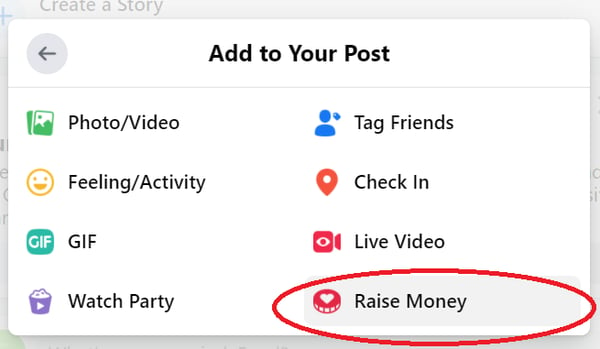 Then, select your organization and publish! Encourage your supporters to contribute and share with their networks to boost your fundraising efforts.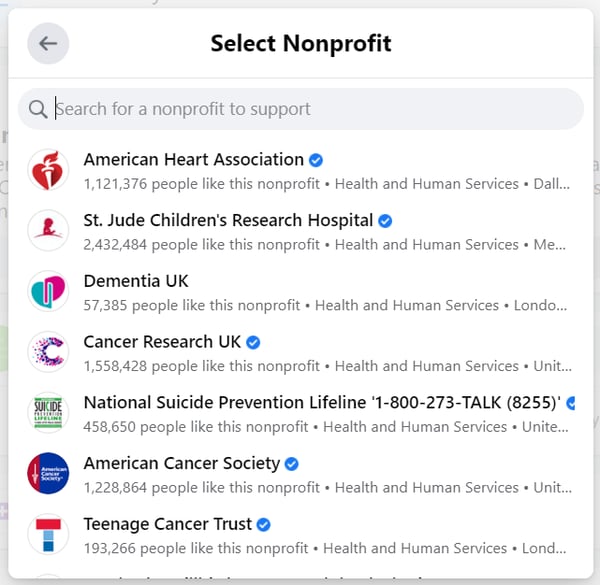 Live video is becoming widely popular and used for fundraising efforts. If your organization utilizes Facebook Live video in your marketing efforts, take it to the next level by adding a donate button to your live video following the same steps above.
Page Fundraisers
Page fundraisers are another great tool your organization has the opportunity to benefit from. Any individual can create a page fundraiser on your organization's behalf by selecting "Fundraisers" from their home page.

From there, Facebook will ask the creator to choose the nonprofit organization they would like to support and a page that looks similar to a typical crowdfunding page is generated in minutes!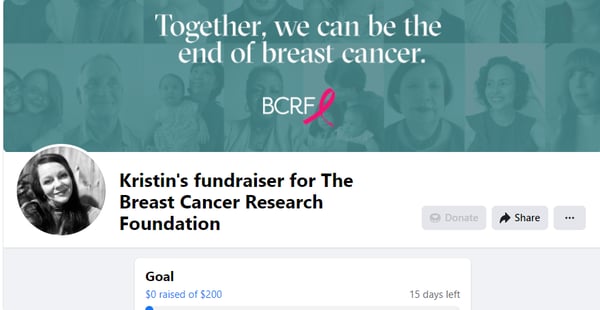 The individual creating the page can even pledge to match donations received. Donors can contribute to your cause with just a few taps and have the option for a one-time contribution or monthly gift.
Facebook provides a unique URL for page fundraisers that can be used in communications outside of the platform, directing potential donors back to Facebook.
Birthday Fundraisers
If your organization has signed up for Facebook's charitable giving tools, individuals can choose to fundraise for your nonprofit during birthday fundraisers. Facebook users receive a message about two weeks before their birthday prompting them to consider creating a fundraiser to support their favorite charity and can encourage their network to help raise money as well.
How Your Nonprofit Receives Funds From Facebook
Understanding how your charitable organization will receive funds from your Facebook fundraiser ahead of time will help the process be stress-free. There are a few ways your organization can receive payments.
The default method of payment for nonprofits in good standing with the IRS is through a payout organization called Network for Good. It can take 45-75 days after the donation has been made for the funds to be distributed to your nonprofit organization, but there are helpful transaction and payout reports available.
Alternatively, your organization can opt to sign up for Facebook Payments. Payouts from Facebook Payments are sent automatically every two weeks, making it a hassle-free option. You'll also get contact information for donors who opt in to receiving emails from your organization at the time of their donation, making your personalized thank you messages a breeze!
Facebook even sends a donation receipt to the primary email address associated with the Facebook account of the donor. The receipt will include your organization's name, logo, mission statement, and employer identification number (EIN). The message will also mention the individual made a true donation and received no goods or services in return. Though the IRS only requires a nonprofit to provide a receipt for donations over $250, your donors may expect a receipt for their donation of any amount for their tax use.
Shortly after #GivingTuesday in 2017, Facebook announced it would cover all fees for its fundraisers — which means you get to keep 100% of your donations. Processing fees on other crowdfunding platforms can be as high as 5%, making Facebook a budget-friendly method of fundraising.
In both 2019 and 2020, Facebook matched $7 million in qualifying donations for Giving Tuesday. In 2020 specifically, Facebook made a change to allow for more donations to be matched.
Keep your eye out for announcements related to future years, but here's how it looked in 2020:
Matches were capped at $100,000 per nonprofit and $20,000 per donor
100% match of the first $2 million given
10% match of the remaining $5 million given
For Best Results, Create Dynamic Content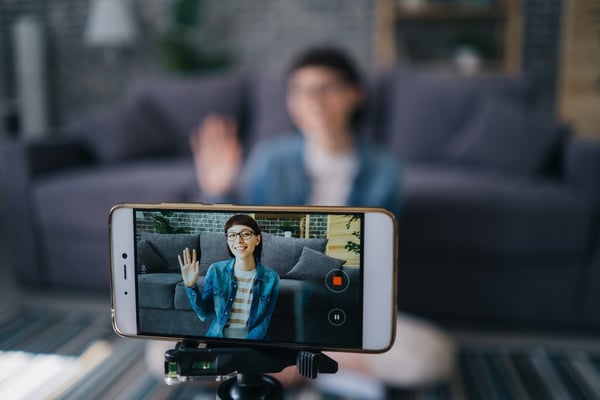 Video is seven times more engaging than other posts or photos on Facebook. With attention spans seemingly growing shorter, be as engaging as possible to capture the attention of your audience. In the world of likes and shares, you'll want to focus on the quality of your content so your audience feels compelled to support you and encourage their Facebook friends to do the same.
Fortunately, you can shoot quality videos right from your smartphone!
Videos begin playing without sound immediately once they appear in someone's newsfeed — so be sure the first few moments of your video are as polished and enticing as possible!
Eye-catching graphics and photos can also convey powerful emotion. Before and after photos, when applicable to your cause, can be impactful tools to demonstrate the ability your organization has to make the world a better place.
Optimize the size of your photos. Be sure to balance quality with load speed. Raw, higher resolution files can be slower to load. Aim for the recommended size of 1,200 x 630 pixels.
Take Advantage of Facebook Fundraisers
Facebook is a simple way to gain support for your next initiative, and donors love the convenience of remaining on Facebook through the entire donation process. If your donor has their credit card details stored in their Facebook profile, they can donate in just a few taps, without having to move to a new tab.
Now that you know how to get set up to use Facebook's fundraising tools, how to collect funds raised, and how to crush your fundraising goals with captivating content, it's time to kick off your first Facebook fundraiser!
Interested in maximizing engagement with your next Facebook campaign? Reach out to our team to book a demo and see how video can grab the attention of your social network.