How Big Brothers Big Sisters Use Video to Build Relationships with Donors (with examples!)
by Delaney Strittmatter
on Sep 10, 2021 10:15:58 AM
The idea of "video" is frequently tossed around in the donor relations sphere. But what kinds of videos should you be sending? What should you be showing? Who should you feature in your videos?
Let's take a look at how Big Brothers Big Sisters is building relationships through video-- specifically 3 different types of videos that will strengthen donors' affinity for your organization.
Event Invites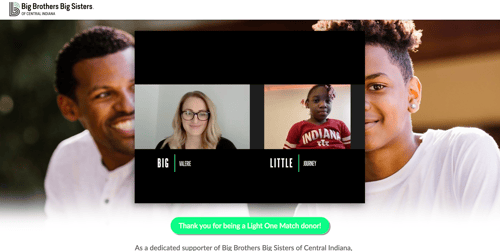 This video has been featured in our Tip Top Tuesday series as well as a webinar called Incorporating Video into Events. It's just too good not to share!
In this video, BBBS of Central Indiana made a lot of solid moves!
The video is an invite to a virtual event. It only makes sense to invite your donors in the same format that the event will take place. They know what to expect--which is to hear more incredible stories from a Big and Little.
This video featured the why of the event. Often details of who, when, and what take the driver's wheel in event video content. But BBBS of Central Indiana let the "why" of their event take center stage.
Events are the place for your donors to meet you face to face, in-person, or online. Make this opportunity even more impactful by leading with video.
Birthdays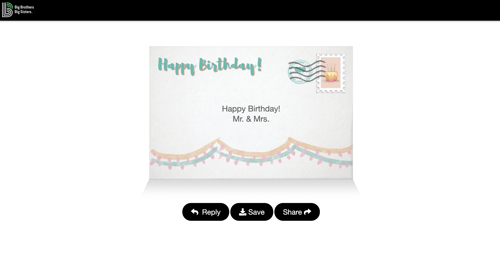 Birthdays are a once-a-year event for your donors. Why not take the opportunity on this special day to surprise them with well-wishes?
Often, birthdays fall to the wayside in favor of giving days appeals, events, or holidays but they should be a priority for any organization that values building relationships (a huge goal for the BBBS community)!
Building a birthday campaign can seem like a daunting task, but it's important to note that creating one birthday video can be used in birthday campaigns for an entire year.
Check out this webinar to see how these organizations built their birthday campaigns!
Thank yous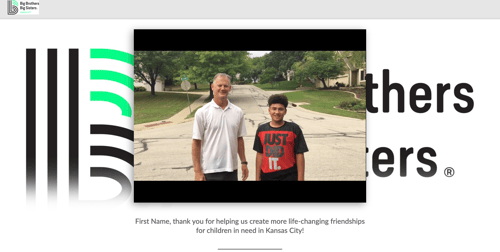 Thank yous can be sent directly after a gift, on the anniversary of a donor's first gift, or anytime you'd like.
It is nearly impossible to over-thank donors, but it is all too frequent that donors' gifts go unacknowledged.
Take the time to create video thank-yous that stand out from a receipt. The best part? You can task Bigs and Little with the quest of creating the most epic thank you. You just might get an amazing result like the one above.
---
Ace Your Next Video Campaign
Recording, editing, and sending videos can seem like a daunting task. But if you're focusing on how each video strengthens a relationship to your organization, then you are heading in the right direction. Next step? Personalized video with the ability to track results. That's where we come in-- book a demo with our team to find out how it all works.